Zertifikate sind wichtige Urkunden für berufliche und private Errungenschaften. Viele sind jedoch für ästhetische Bedürfnisse im 21. Jahrhundert nicht ausreichend gut gestaltet. Sie erfüllen ihren Zweck, aber werden selten als ästhetischen Blickfänger und Statussymbol an der Bürowand etwa, dienen können. Das muss nicht sein. Für meinen internationalen Kunden, der International Academy of Cytology (IAC), habe ich das Examenszertifikat für Zytopathologen neu gestaltet. Das Ziel war es, traditionelle Elemente der Urkundengestaltung in die heutige Zeit zu übersetzen.
A Contemporary Exam Certificate
Certificates are important documents marking our professional and private achievements. Many of them might serve their purpose, but do not meet 21st century visual and aesthetic standards. Instead, they could be revamped to become attractive eye-catchers on office walls, that also subtly speak to the owner's status. I had the honor to visually translate traditional certificate elements for the IAC's Board of Cytopathology Exam Certificate into the 21st century.
I. Old Style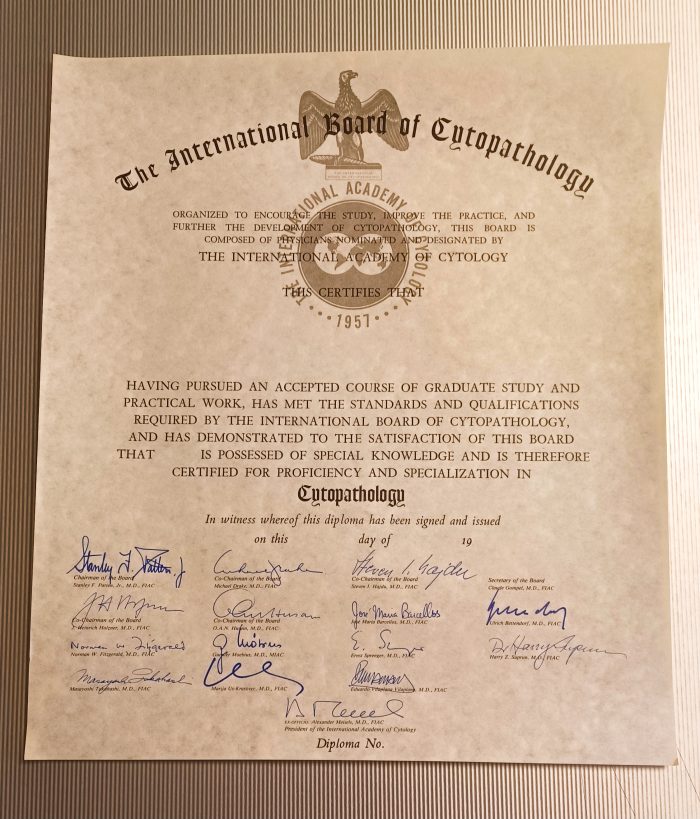 Das alte Zertifikat aus dem 20. Jahrhundert ist wenig ansprechend. Der Text über dem Siegel/Logo ist zudem nicht sehr leicht lesbar. Der Adler als krönendes Wappentier, hat im zeitgemäßen Kontext wenig Bedeutung, genauso die verwendeten Frakturschriften.
The old certificate, designed in the 20th Century, is not very appealing to contemporary eyes. The text bits overlaying the organization's seal is not easily readable, while the Eagle does not have a lot of meaning in modern contexts, just as much as the black letter fonts.
II.Neugestaltung – A New Style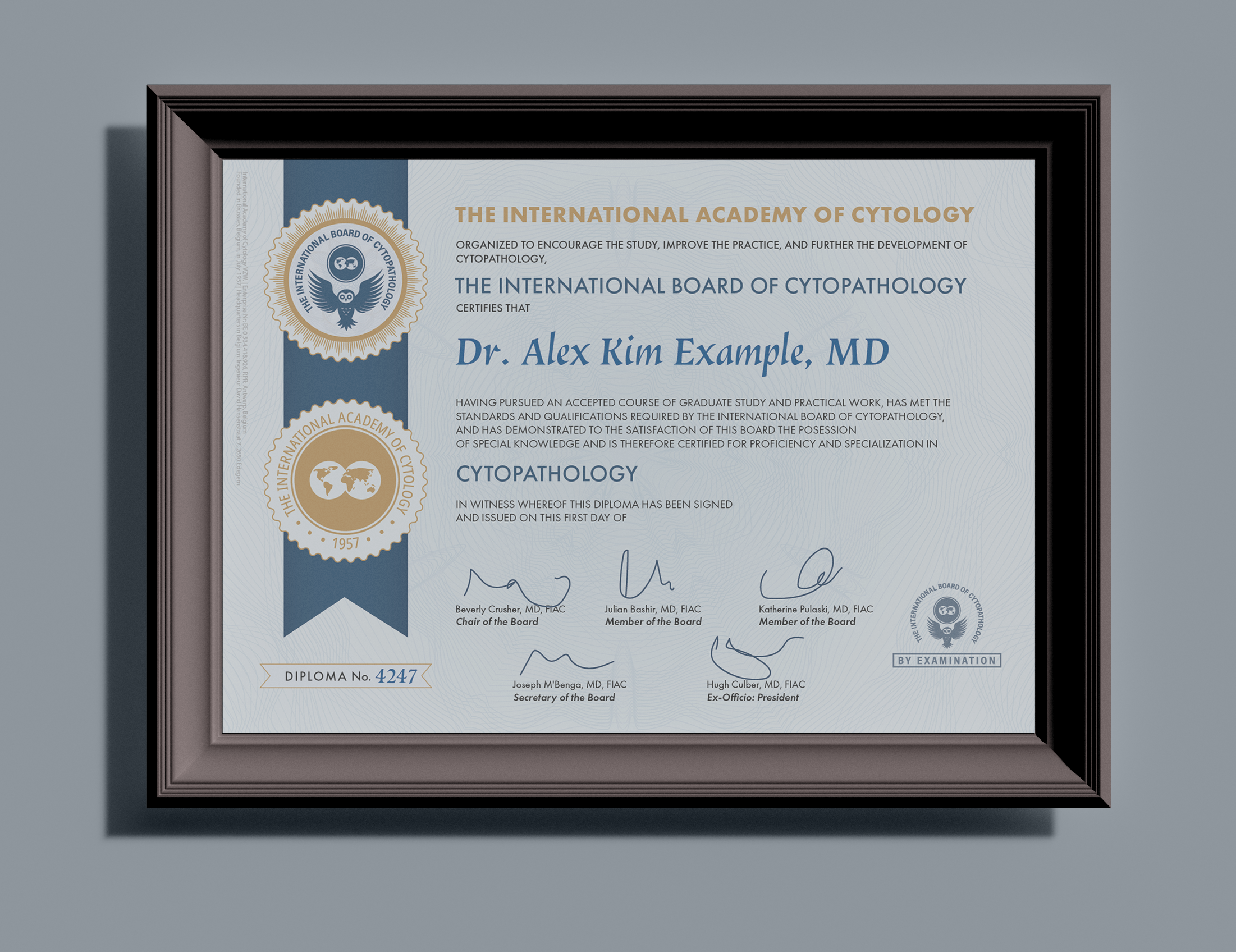 Statt Elefantenhaut, ist der Hintergrund mit Guillochemuster ausgestattet. Dazu ziert die grafische Darstellung eines Siegelbandes die linke Seite der Urkunde. Der rein dekorative Adler ist zu einem eigenen Siegel des ausstellenden Gremiums geworden, das diese Urkunde nach bestandener Prüfung vergibt. Die Eule als Symbol für Weisheit und Bildung ist viel angemessener.
The new certificate background is made up of a guilloche pattern. The graphical representation of a seal ribbon in dark blue holds the two seals on the left-hand side. The mostly decorative eagle has been replaced by a seal for the Board of Cytopathology who issue this certificate after passing the exam. Owls are symbols for wisdom and education, befitting such a certificate.
KONTAKT
Sind Ihre Zertifikate ein Blickfang?
Are your Certificates Eyecatchers?